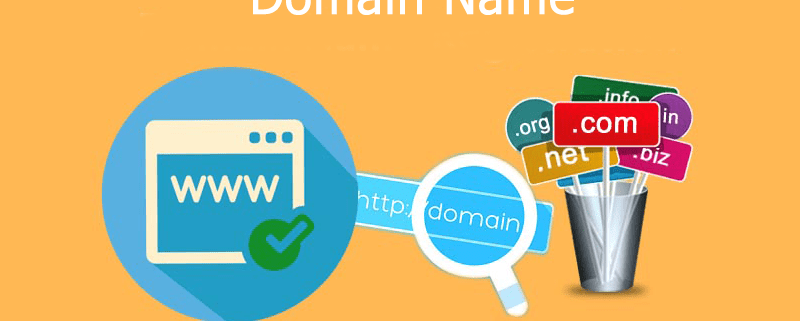 Domain Name Registration is the first and most critical step of having a Web Presence. Choosing a domain name is similar to choosing a companies name, which requires a lot of thought and considerations. Your domain name is your identity on the web; you want to make sure you choose a domain name that not only fits your business, but is also easy to find and promote.
Follow the below mentioned steps to get best domain name for your business / website
Keep it Short : The domain name should be small and easy to remember, if you keep your domain name long and complex you may risk your customers mistyping it or misspell it. when it comes to the length of your domain, shorter is better. According to research from Gaebler.com, a magazine for entrepreneurs, the top-5 websites have approximately 6 characters in their domain name. Aim for 6-14 characters – and remember: the shorter, the better. Most likely the shorter domain name are taken LONG time ago and sold for thousands of dollars. So if you can't find something short, make it brandable.
Keep it easy to type : Finding a domain name that's easy to type is critical to online success. Avoid using slang for example : use you instead of u or use express instead of xpress. Using slang words will make it difficult for customers to find your website.
Think of some of the most popular websites in the world. What comes to mind? Google, Facebook, Twitter, Instagram, Yahoo . . . One big thing they have in common is that they're all easy to spell.Here's an easy way to test this…Tell 10 people your potential domain name and ask them to spell it. If more than a few people struggle to spell it, then you need to simplify.Your visitors should be able to type your domain name without a problem. If you have to explain the spelling more than once for it to be understood, then it's too complicated. The last thing you want is for potential visitors to mistype your domain and end up on a different website!
Use your business Keywords : If your domain name has business keywords in the domain name itself this makes your website easily searchable in google. For example if you deal in safety equipments  and you manage to book domain www.safetyequipments.com then this will not only make it easy for your existing customers to find your website but also this may bring in new customers from google who are trying to search safety equipments.
Target your City : If you are a local business and restricted to do business in just one city, then it is advisable to have your city name in the domain along with your keyword. For example : earlier we saw www.safetyequipments.com is a good domain for business dealing in safety equipments but if a business is providing service only in mumbai then domain name www.safetyequipmentsmumbai.com is better for them since it will bring them only those customers who will be searching safety equipments in mumbai city.
Preferred Domain Extension : Extensions are suffixes, such as .com or .net, at the end of web addresses. These can have specific uses, so make sure to choose one that works for your business. The .com domain extension is far and away the most popular, but it can be tough to get a short and memorable .com domain name because it's been around for so long. So you can alternately use .net, or .in or .co.in if your business is in India. I personally dont prefer buying other extensions since people dont really remember them and mistake it with .com ultimately landing your visitor to a different website.
Avoid Numbers & Hyphens : Numbers and hyphens are often misunderstood — people who hear your website address don't know if you're using a numeral (1) or it's spelled out (one) or they misplace or forget the dash. If you need these in your domain, register the different variations to be safe.The bottom line? Your domain name should be smooth and punchy, and hyphens and numbers get in the way of that.So, stick to letters!
Think Long term :  Are you ready to marry your domain? You should be, because it will be one of the biggest elements that defines your business and brand for years.Plus, if you decide to change the domain in the future, it will cost you money, branding, and SEO rankings. In short, it's a huge pain.So, when you choose your domain, think long-term.
Check Availability on Social Media Sites and Trademarks : Before you move forward with a specific domain name, check to see if the name is available on social media sites, as well as if there are any trademarks already registered to the name. To build your brand, it's ideal to have the same name across your domain and social networks. This builds familiarity and makes it easy for your visitors, fans, and customers to find you around the web.And to avoid legal issues, you should stay away from names that already have trademarks.
Protect and build your brand : When your Brand becomes popular, competitors will try to buy other extensions or your domain for example safetyequipments.com is your domain and it is popular in market then your competitors will try to purchase other extensions like safetyeuipments.in or safetyeuipments.co.in or safetyequipments.netTo protect your brand, you should always purchase various domain extensions and in future you can use these domains for different purposes like email marketing or support software etc or even route all domains to one main website. You should also buy misspelled versions of your domain name. This prevents competitors from registering other versions and ensures your customers are directed to your website, even if they mistype it.
Act Fast : Domain names sell quickly. Thankfully, they're also inexpensive, so register your favorite domain names as soon as possible. If you keep on thinking some one else will purchase your desired domain. Kindly Fill the Request a Call Form and our team of experts will be able to help you find best suitable domain name for your business that not only is easy to remember but also seo friendly.
https://www.doortoweb.net/wp-content/uploads/2018/03/domain-name-registration.png
800
800
nikki
https://www.doortoweb.net/wp-content/uploads/2014/09/logo-1.png
nikki
2018-03-22 11:53:16
2018-03-23 11:39:16
How to Choose a Domain Name